FLORIEREN, 2011
---
FLORIEREN, 2010
---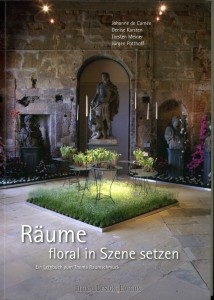 Giving Rooms a floral Setting:
A creative study aid for every (floral) room designer.
Johanne de Carnée, Denise Karsten, Torsten Meiner, Jürgen Potthoff. Münster: Floral Design Edition, 2010.
The purpose of this book is to provide the reader with a complex overview of how to create a room decoration using flowers and plants. The first step consists in analyzing the design parameters and the technical conditions of the assignment and the associated rooms, with respect to the theme and the occasion, as comprehensively as possible. The designer can then use this foundation to present a proposal, taking into account other relevant parameters like time and costs, and then subsequently implementing the project accordingly.
The authors use many practical and replicable examples to convey the necessary knowledge about styles and customs, the effects of colors and surface structures, size and quantity ratios, flowers and plants and other materials, the knowledge of design criteria and mastery of technical floristry skills. A study book, thus, for everyone who wishes to design a room or space using flowers and plants – whether indoors or outdoors: undergraduate students and masters' students, as well as experienced professionals and interested entrepreneurs. Even architects, interior designers and interior decorators will discover ideas for their work. The reader profits from the profound experience of the authors, who ensured that numerous useful tips and ideas from their daily work flowed into this practice- oriented guide.
---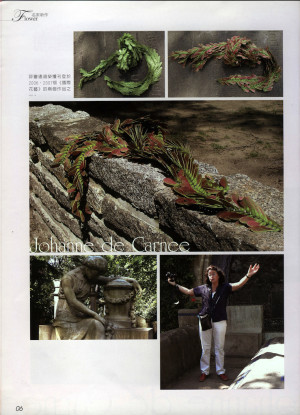 FLORAL is one of the most popular magazines for florists in Taiwan.
This magazine published an article with some photos which were taken during the displays and training for 'Floral-Arrangeur.'
---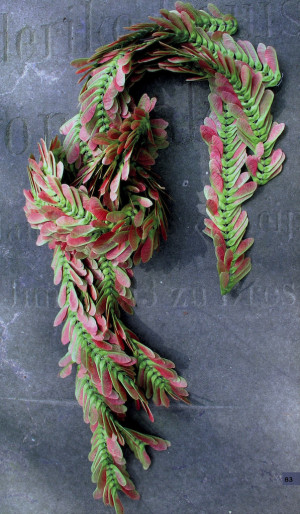 International Annual FLORAL ART 06/07
International Annual FLORAL ART 06/07 is a special book series which appears once in every two years. In this book, florists from around the world have an opportunity to publish their special workpieces. An international jury selected out of 886 submissions 251 for the publication.
Jahrbuch Floristik International Annual Floral Art 06/07. 2007. 302 S., 265 Farbf., Stichting, geb. ISBN 978-3-8001-5575-0