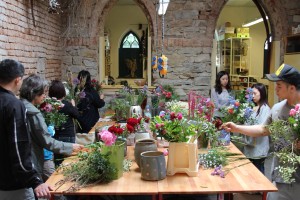 The focus of the seminars is currently on the preparation for
Florist – practical part and Master Florist – practical part.
All job-related workpieces in profound technique and high-quality design are included in the training program. Our program is not restricted to short-term fashion trends; rather it encourages development of individual creativity. I am convinced that only this way can competent, confident and creative designers achieve successful career and have a distinctive personal point of view.
In recent years, florist training has attracted more and more young people from Asian countries. A unique concept for this training in the practical part was specifically design in accordance with the German training for skilled florists. Initially, training seminars will take place in the home country with native and German speakers. In the course of the seminars, all aspects of floristry will be examined. An intensive seminar in preparation for the final examination will be held in Dresden.
Successful participations will be rewarded with a certificate of Industrie- und Handelskammer Dresden (i.e. Industry and Commerce Chamber Dresden).